WE MAKE SERIOUS PONTIAC HORSEPOWER

AND WE KNOW MORE ABOUT BUILDING STOCK PONTIAC ENGINES THAN ANYONE.


Comp Cams new ad uses Fulper design ulimate Pontiac power
Comp Cams has the widest selection of cam lobes in the industry.
Bruce's involvement with Comp goes beyond just sales.
Comp trusts Bruce's testing to make important decisions for future
catalog cams. The secret to Bruce's combinations lies in the intake tract.
And that means the cam has to be perfect.
Watch this page for updates and more information.
-
In case you didn't know, Bruce profiles your cam for your combination.
Off the shelf cams are ok for certain applications, but how do you know they're good for yours?
Ask the friendliest guy in our Pontiac business, Bruce Fulper. If you're trying to build an old Pontiac engine to stock specs - Don't!
Call Bruce to find out why. Our techniques will allow you to build a
much more efficient engine - using today's gasoline.
Bruce has designed many different engine combinations. From mild street to the strongest Pontiacs in the nation.
Using Comp Cams modern lobe profiles has helped.
Ninty nine percent of the cams RRE sells are custom designed. Are they're very afforadable.
$295 for ANY hydraulic cam and lifters.
$295 for ANY solid flat tappet cam and lifters.
$625 for ANY solid roller cam and lifters.
$875 for ANY hydraulic roller cam and lifters.
Worlds Fastest Street Pontiac 1999 - 2000 - 2001
9.11 at 149 mph.
And drove it to the track!
Comp Cams powered!
All of the cars on this web site use Comp Cams.
Email Bruce with all of your vital information and he'll
be happy to sell you his advantage.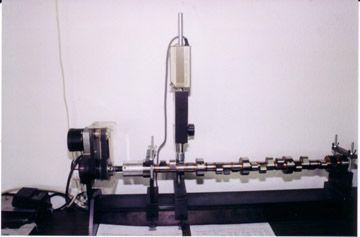 Bruce has studied cam design and made profiles since 1991.
He has used the Cam Pro Plus inspection tool since 1996.
There's a reason why no other advertising Pontiac engine builder
has achieved our Pontiac power making success.
Understanding engine function. That's the secret.